Todo+Cal+Sync for iPhone Syracuse NY
This app will primarily appeal to users looking to take advantage of its support for the SyncML synchronization standard. Otherwise, Todo+Cal+Sync in Syracuse is a hard app to recommend, especially since there are more elegant to-do list managers available for download.
---
Mr Cellphone Man Incorporated
(315) 422-7222
339 S Salina St
Syracuse, NY
Cell For Less
(315) 463-0777
175 Shop City Plz
Syracuse, NY
At&T Store
(315) 458-3325
3800 Brewerton Rd
Syracuse, NY
Data Provided by:
Chat Wireless
(315) 399-4014
4671 Onondaga Blvd
Syracuse, NY
Chat Wireless Incorporated
(315) 455-2355
2512 Brewerton Rd
Syracuse, NY
Cell Phones For Less
(315) 424-7777
1900 Erie Blvd E
Syracuse, NY
Cellular Express
(315) 432-1155
2207 Burnet Ave
Syracuse, NY
Chat Wireless Inc
(315) 399-4300
4729 Onondaga Blvd Ste 115
Syracuse, NY
Verizon Wireless Zone Premium Retailer Wireless Zone
(315) 708-0800
2202 West Genesee St (Westvale Plaza)
Syracuse, NY
Cingular Wireless
(315) 446-0400
5841 Bridge St
East Syracuse, NY
Data Provided by:
Todo+Cal+Sync for iPhone
Posted on by John Fuller , Macworld.com
There's certainly no shortage of to-do list managers available in the App Store, but Todo+Cal+Sync tries to put its own spin on things with support for the SyncML synchronization standard. Unfortunately, the $15 to-do list and calendaring app from Synthesis AG is a complicated app to master since it eschews many iPhone conventions.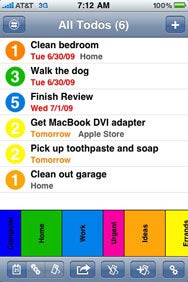 Tag, You're It: Todo+Cal+Sync's color-coded tags are certainly eye-catching, but they don't always contribute to an intuitive view.
The primary function of Todo+Cal+Sync is to allow the user to create, edit, and view a series of to-dos. Each to-do item can have an array of criteria assigned to it, such as status, priority, due date, starting date, location, notes, geographical coordinates, and subtasks.
Color-coded tags are also available, which you can assign to each item. While Todo+Cal+Sync ships with a default set of four tags—Home, Work, Urgent, and Ideas—you can also create and edit as many as you'd like. You can then select tags to view all the corresponding to-dos. For the most part, tagging is a simple and efficient process.
In addition to tags, Todo+Cal+Sync also supports priority ratings that can be assigned to each to-do item. These ratings appear to the left of their corresponding item in the default list view. Also, the background color of each priority rating corresponds with the assigned tag for that item.
When you open Todo+Cal+Sync for the first time, you'll see the default list view. This view can be intimidating, as it isn't intuitive and is filled with many buttons and colors. However, you can change views by swiping left and right. Other views include monthly calendar, daily calendar, and calendar list. The calendar views display to-dos as well as events that you create. It doesn't import your calendars on the iPhone, but you can sync via SyncML. The app also imports birthdays from your contacts.
If you're familiar with the iPhone OS and how other iPhone apps work, Todo+Cal+Sync can feel out-of-place, as the app doesn't do things in the manner which you might expect. For instance, swiping to delete isn't supported, and instead of having one tag manager button that allows you to add and edit tags, there are multiple tag-related buttons that clutter up the main interface. Also, instead of grouping calendar views together and allowing the user to toggle between them as you would with the built-in Calendar app, you have to swipe left and right numerous times.
For most customers, SyncML is the headline feature that pulls them in. Todo+Cal+Sync uses the SyncML technology for syncing contacts, calendars, and to-dos. It has a multitude of settings that can be customized for the sync, and retains a synchronization log.
If you're looking for a quality to-do manager and calendar, you're barking up the wrong tree. However, if you are in need for a way to sync your to-do list and calendar via the SyncML technology, this is one of your only App Store options.
I wouldn't say that Todo+Cal+Sync is terrible at what it does—it certainly gets the job done. But at $15, it's pretty pricey for what it offers—especially when there are simpler, cheaper, and more elegant alternatives for calendars and to-do list managers.
Todo+Cal+Sync is compatible with any iPhone or iPod touch running the iPhone 2.x software update.
[ John Fuller is a freelance designer and writer from Texas.]
Click here to read article at MacWorld