Whole-Home Audio System Syracuse NY
We love Sonos' Digital Music System and Logitech's Squeezebox, but Dan Frakes and Jason Snell set out to determine if they could build a comparable system from AirPort Express units and other Apple gear. Their experiences can help you decide which is the best system for getting your music around your house.
---
Eastern Computer Warehouse
(315) 449-0111
5802 Bridge Street
East Syracuse, NY
Services
Computers and Equipment Repair and Maintenance, Computer and Equipment Dealers, Computer Supplies Parts and Accessories, Computer Software, Consumer Electronics Stores
Data Provided by:
Staples
(315) 455-2820
300 Northern Lights Plaza
Syracuse, NY
Recycling Services
Recycling Desk
$3 Ink & Toner Credit
Hours
Mon-Fri: 8:00am-8:00pm Sat: 9:00am-7:00pm Sun :11:00am-6:00pm


OfficeMax
(315) 449-4610
3471 Erie Blvd. East
Dewitt, NY
Hours
M-F 8-9, Sa 9-9, Su 11-6*


Staples
(315) 715-0112
4118 Rt. 31
Clay, NY
Recycling Services
Recycling Desk
$3 Ink & Toner Credit
Hours
Mon-Fri: 8:00am-9:00pm Sat: 9:00am-9:00pm Sun :11:00am-6:00pm


Allegiance Group
(212) 421-7255
450 Fashion Avenue
New York, NY
Services
Franchising, Computer Software
Data Provided by:
Gamestop
(315) 622-0492
4155 State Route 31
Clay, NY
Services
Video and DVD Sales and Rental, Electronics, Help Desk Services, Computer Software, Games and Supplies Dealers
Hours
Mon-Sat 10am-9pm
Sun 11am-6pm
Data Provided by:
Staples
(315) 463-8040
3 Chevy Dr.
E. Syracuse, NY
Recycling Services
Recycling Desk
$3 Ink & Toner Credit
Hours
Mon-Fri: 8:00am-9:00pm Sat: 9:00am-9:00pm Sun :11:00am-6:00pm


Staples
(315) 488-4071
3736 Milton Ave.
Camillus, NY
Recycling Services
Recycling Desk
$3 Ink & Toner Credit
Hours
Mon-Fri: 8:00am-9:00pm Sat: 9:00am-9:00pm Sun :11:00am-6:00pm


OfficeMax
(315) 458-0638
5671 East Circle Drive
Cicero, NY
Hours
M-F 8-9, Sa 9-9, Su 11-6*


Novasync,Corp
(631) 847-3540
102 Conklin St.
Farmingdale, NY
Services
Computer Hardware and Supplies, Computer Software, Software Training, Computer and Software Stores
Data Provided by:
Data Provided by:
Whole-Home Audio System
by Dan Frakes, Jason Snell , Macworld.com
Many of us here at Macworld are music lovers. We listen to a lot of music in a lot of places around the house. Which means many of us are also big fans of Sonos' Digital Music System , which lets you easily get your music into multiple rooms using a combination of hardware, software, and remote controllers. Some of us are also longtime fans of Logitech's Squeezebox product line , which similarly lets you pipe digital music all over your house.
Recent Playlist Posts
Apple, Sonos, or Squeezebox: What's best for getting your audio all over your house?
Behind the cover of an iTunes LP
A year later, Nokia's music service has few users
Playlist home View all Macworld blogs
But every time we write about Sonos or Squeezebox, a number of readers (understandably) ask, "Can't you do the same thing with a bunch of AirPort Express units and speakers using AirTunes ?" (AirTunes is technology that allows you to play audio from iTunes on a remote audio system connected to an AirPort Express.) After all, the Sonos and Squeezebox systems are relatively expensive, so some people wonder why you would opt for either over a system based on Apple gear.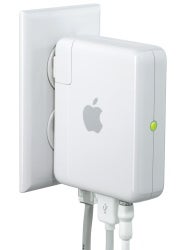 Apple's AirPort Express
With that question in mind, we set out to see if we could put together a whole-house audio system, based on AirPort Express units, that can compete with Sonos- or Squeezebox-based setup. We weren't looking for the least-expensive setup: Sticking an AirPort Express and a set of inexpensive powered speakers in each room would work, but it wouldn't give you anything near the same functionality and audio quality. What we wanted was an Apple-based, whole-home audio system that approaches the audio quality and features of the Sonos and Squeezebox systems.
Here's a rundown of our experiences, along with some quick, back-of-the-envelope estimates of how much each system would cost. Note that these estimates assume you don't have the equipment necessary for each component of the system; in reality, you may already have some—or even all—of the equipment you need.
Getting ready
Unless you've got Ethernet wired throughout your house, the first thing you'll need to do for all three systems is set up a wireless network. In the case of an AirPort Express-based system, that means a standard Wi-Fi network. While you could use a third-party wireless router, an Apple-branded base station works best; third-party wireless access points may work with AirTunes, but it's unsupported and we've had varying degrees of success.
Although you can use an AirPort Express as your main base station, we recommend an AirPort Extreme for the flexibility to connect devices via Ethernet and the capability to store media on a connected hard drive. Just as important, using an AirPort Express as the main base unit limits you to just 10 wireless devices—a limit you're likely to quickly reach given that the count includes iPhones, iPod touches, computers and laptops with wireless connections, and other AirPort Express units.
Logitech's Squeezebox players all work with both Ethernet and Wi-Fi base stations of any brand. Once again, we'd recommend you use a base station with support for a large number of connected devices, since they add up. But if you go for the Squeezebox line of players, you can choose any brand of wireless router, including Apple's AirPort.
The Sonos system, on the other hand, creates its own, proprietary wireless network . Advantages of this approach include easier setup and less interference. The Sonos network is also a mesh network , which means that instead of the network being hosted by a central base station, any device can extend the network to any other device, giving the system better overall range and performance.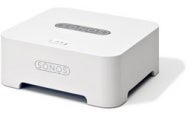 The Sonos ZoneBridge
But the Sonos system still needs to connect to an existing network (with Internet access) somewhere. Which means at least one Sonos component must be within wired distance of either your router (whatever type of router it is) or an Ethernet port. If your router or network port is in a closet or a room where you won't be listening to music, the $99 ZoneBridge is a compact (4.3-inches square, 1.6 inches tall) box that connects to your wired network and acts as the first node in the Sonos wireless network. If you do plan to listen to music in the room with your network port, both the $349 ZonePlayer 90 (ZP90) and the $499 ZonePlayer 120 (ZP120), each described below, incorporate the ZoneBridge's functionality.
Cost if you don't have equipment: Apple: $179 (AirPort Extreme); Squeezebox: $30 and up (cost of a Wi-Fi router if you don't already own one); Sonos: $99 (ZoneBridge), $349 (ZP90), or $499 (ZP120) plus router.
Page 1 of 6
Next »
-->
Click here to read article at MacWorld